Ephraim McCartney was born September 20, 1772 in Lancaster Co., PA. His father emigrated from Ireland. According to family recollection though, the McCartney family was not Irish but rather Scotch.:
"People were always surprised that being McCartney's, we were none of us Catholic. I never knew any of the family that were away back, they claimed not to be Irish, but Scotch and that's probably the reason we were all Methodists and most of us still are." (Etta Belle Winsell Lord)
DNA Research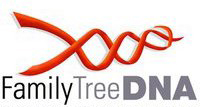 History indicates that the origin of the McCartney name is Scottish. Etta Belle's statement coupled with our family history stating Ephraim's father emigrated from Ireland, implies we were of "Scotch-Irish" descent. With that said, this researcher decided to investigate by means of DNA analysis. In 2012 I submitted a DNA sample to Family Tree DNA. More recently I elected to take their most in-depth paternal test (Big-Y). Results of these tests point to South Ireland being the origin of my McCartney branch. Interestingly, a 4th cousin 1x-removed took the same paternal DNA tests. Results delineated our direct relationship--our g-g-grandfathers were brothers. Further details and information will be forthcoming from various DNA databases we have joined which analyze the raw DNA data. This Irish connection though, does not negate the possibility of a Scotch-Irish link.
The terms "Irish", "Scotch-Irish" and "Scotch" are frequently used interchangeably, and often used erroneously. The distinction between the terms has implications not only for where people originated, but also in terms of what location/country they likely emigrated from. Where one originated and where one emigrated from were not necessarily one in the same:
Scottish immigrants to America included three distinct groups: Highlanders, Lowlanders, and Scotch-Irish (or Ulster Scots). Highlanders came from the north of Scotland, where the land is rugged and the people fierce. The clannish Highlanders wore kilts and spoke Gaelic. Lowlanders came from southern Scotland, which had been much more influenced by English language and culture. The Scotch-Irish were originally from the lowlands but had been sent to Northern Ireland (Ulster) by English rulers who hoped to establish a Protestant stronghold in that Catholic land. The Ulster Scots kept to themselves though, mingling very little with their Catholic neighbors and preserving their Scottish identity. (Worldmark Encyclopedia of Cultures and Daily Life, 1998)
The early immigration of the Scotch and Scotch-Irish to America occurred in the 18th century. Assuming Ephraim's father was between the ages of 18-21 at the time of Ephraim's birth in 1772, it is possible Ephraim's father emigrated in one of the later waves from Ulster between 1751-1772 prior to the American Revolutionary War:
Approximately two-hundred thousand people, primarily of Scottish descent and Presbyterian faith, left Ulster, and sailed for America in five major waves between 1717 and 1775. During the fifth and final wave from 1771 to 1775, twenty-five thousand people emigrated from Ulster. This was primarily motivated by the eviction of many families from the county Antrim, when the leases on the estate of the Marquis of Donegal expired and the settlers could not comply with rack-renting demands. (The Ulster-Scots: The Great Migration, by Larry D. Smith)
It is also probable that Ephraim's father's port-of-call was Philadelphia prior to settling in Lancaster Co., PA:
From about 1715 to 1775, a great number of people for various reasons emigrated to America from the north of Ireland, and quite a large part of these landed at Philadelphia, Pa., and at New Castle Del. From these points they spread north and west into and beyond what is now Lancaster County. (History of Lancaster County, Pennsylvania, with Biographical Sketches of Many of Its Pioneers and Prominent Men. Everts & Peck: Philadelphia, 1883, pg. 667)
During the course of the American Revolution (1775-1783), England feared, and with good cause, the possible impact Scottish immigrants might have on the outcome of the war. Some of the well-known Scottish and Scotch-Irish immigrants who played leading roles in the outcome of the war included Patrick Henry, John Stark, Henry Knox and John Paul Jones. This does not preclude those Scottish and Scotch-Irish immigrants though, of lesser known identity, for which you will read about later in this article:
Scotch-Irish Americans, with their anti-English stance, were quite ready to join the rebel cause in the American Revolution. Scottish Americans from the Highlands and Lowlands, however, tended to side with the British crown. Fearing that the Scots would side with the rebels, the English prohibited Scottish emigration to America beginning in 1775. The damage was already done, however, and the Scotch-Irish (and some Scottish) Americans contributed significantly to the downfall of the British. (Worldmark Encyclopedia of Cultures and Daily Life, 1998)
Seven years after the conclusion of the Revolutionary War (1790), Ephraim married Ann Sanford in Mifflin Co., PA. Ann was born about 1767, also in Mifflin Co. Ann's father was Abraham Sanford. Ephraim and Ann had ten or eleven children, eight of whom, six boys and two girls lived to adulthood. The oldest boy was Robert Isaac McCartney. The focal point of this website centers around Robert Isaac, his wife (Lydia) and their eight children.
Ephraim McCartney died at the age of 52 in Washington Co., PA, September 9, 1825, and his wife Ann, at the age of 86, in the same county, in the early part of January 1853.
[researcher]-David McCartney (1952- )
[father]-Vernon McCartney (1927-2012 )
[grandfather]-Merle McCartney (1893-1978)
[g-grandfather]-Isaac Elsworth McCartney (1861-1934)
[gg-grandfather]-Isaac R. McCartney (1832-1863)
[ggg-grandfather]-Robert Isaac McCartney (1791-1837)
[gggg-grandfather]-Ephraim McCartney (1772-1825)
[ggggg-grandfather] McCartney (from Ireland)